Exclusive: Democrats to introduce resolution in House on Tuesday in recognition of extreme threat from global heating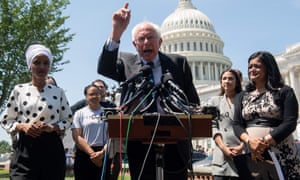 Sanders with Alexandria Ocasio-Cortez, Ilhan Omar and Pramila Jayapal. Data shows nations are not on track to limit the dangerous heating of the planet significantly enough. Photograph: Saul Loeb/AFP/Getty Images
A group of US lawmakers including the 2020 Democratic presidential contender Bernie Sanders are proposing to declare the climate crisis an official emergency – a significant recognition of the threat taken after considerable pressure from environment groups.
Alexandria Ocasio-Cortez, the Democratic congresswoman from New York, and Earl Blumenauer, a Democratic congressman from Oregon, plan to introduce the same resolution in the House on Tuesday, their offices confirmed.
A Sanders spokesperson said: "President Trump has routinely declared phoney national emergencies to advance his deeply unpopular agenda, like selling Saudi Arabia bombs that Congress had blocked.
"On the existential threat of climate change, Trump insists on calling it a hoax. Senator Sanders is proud to partner with his House colleagues to challenge this absurdity and have Congress declare what we all know: we are facing a climate emergency that requires a massive and immediate federal mobilization."
Climate activists have been calling for the declaration, as data shows nations are not on track to limit the dangerous heating of the planet significantly enough. The UN has warned the world is experiencing one climate disaster every week. A new analysis from the economic firm Rhodium Group today finds the US might achieve less than half of the percentage of pollution reductions it promised other countries in an international agreement.
Senate Legislative Counsel
Draft Copy of KAT19097
Title: Expressing the sense of Congress that there is a climate emergency which demands a
massive-scale mobilization to halt, reverse, and address its consequences and causes.
Whereas 2015, 2016, 2017, and 2018 were the four hottest years on record and the 20 warmest
years on record have occurred within the past 22 years;
Whereas global atmospheric concentrations of the primary heat-trapping gas, or greenhouse gas,
(1) have increased by 40 percent since preindustrial times, from 280
 parts per million to 415 parts per

million, primarily due to human
activities, including burning fossil fuels and deforestation;
(2) are rising at a rate of 2 to 3 parts per million annually; and
(3) must be reduced to no more than 350 parts per million, and likely
lower, "if humanity wishes to preserve a planet similar to that on which
civilization developed and to which life on Earth is adapted," according to
former National Aeronautics and Space Administration climatologist, Dr.
Whereas global atmospheric concentrations of other greenhouse gases, including methane,
nitrous oxide, and hydrofluorocarbons, have also increased substantially since preindustrial
times, primarily due to human activities, including burning fossil fuels;
Whereas current climate science and real-world observations of climate change impacts, ocean
warming and acidification, floods, droughts, wildfires, and extreme weather demonstrate
that a global rise in temperatures of 1 degree Celsius above preindustrial levels is already
having dangerous impacts on human populations and the environment;
Whereas the 2018 National Climate Assessment found that climate change due to global
warming has caused, and is expected to cause additional, substantial interference with and
growing losses to infrastructure, property, industry, recreation, natural resources,
agricultural systems, human health and safety, and quality of life in the United States;
Whereas the National Oceanic and Atmospheric Administration has determined that climate
change is already increasing the frequency of extreme weather and other climate-related
disasters, including drought, wildfire, and storms that include precipitation;
Whereas climate-related natural disasters have increased exponentially over the past decade,
costing the United States more than double the long-term average during the period of 2014
through 2018, with total costs of natural disasters during that period of approximately $100
Whereas the Centers for Disease Control and Prevention have found wide-ranging, acute, and
fatal public health consequences from climate change that impact communities across the
Whereas the National Climate and Health Assessment of the United States Global Change
Research Program identified climate change as a significant threat to the health of the
 people of the United States, leading to increased—
Sixteen countries and hundreds of local governments, including New York City last month, have declared a climate emergency already, according to the advocacy group the Climate Mobilization. The activist group Extinction Rebellion has said the declaration is a crucial first step in addressing the crisis.
Blumenauer's office said he decided to draft the resolution after Donald Trump declared an emergency at the US border with Mexico so he could pursue building a wall between the two countries.
In Congress, Democrats in control of the House might have enough support for the resolution, but Republicans in the majority in the Senate are not likely to approve.
The resolution says: "The global warming caused by human activities, which increase emissions of greenhouse gases, has resulted in a climate emergency" that "severely and urgently impacts the economic and social well-being, health and safety, and national security of the United States".
It then goes on to say that Congress "demands a national, social, industrial, and economic mobilization of the resources and labor of the United States at a massive-scale."
Trump and his administration have questioned the science showing that humans are causing the climate crisis. They have downplayed the risks of rising temperatures and gutted government efforts to limit the heat-trapping pollution from power plants, cars and other sources.
Despite that record, Trump touted the US as an environmental leader in aspeech on Monday at the White House.
Even if the resolution passed and was signed by the president, it would not force any action on climate change. But advocates say similar efforts in Canada and the United Kingdom have served as a leverage point, highlighting the hypocrisy between the government position that the situation is an emergency and individual decisions that would exacerbate the problem.
Several of the Democrats running for president have rolled out partial or full blueprints for cutting emissions. Nearly all have said it is a top issue. Sanders has a history of prioritizing the climate crisis, and has previously suggested specific policy options, but he has yet to release his own proposal.
As the crisis escalates…
… in our natural world, we refuse to turn away from the climate catastrophe and species extinction. For The Guardian, reporting on the environment is a priority. We give reporting on climate, nature and pollution the prominence it deserves, stories which often go unreported by others in the media. At this pivotal time for our species and our planet, we are determined to inform readers about threats, consequences and solutions based on scientific facts, not political prejudice or business interests.
More people are reading and supporting The Guardian's independent, investigative journalism than ever before. And unlike many news organisations, we have chosen an approach that allows us to keep our journalism accessible to all, regardless of where they live or what they can afford. But we need your ongoing support to keep working as we do.
The Guardian will engage with the most critical issues of our time – from the escalating climate catastrophe to widespread inequality to the influence of big tech on our lives. At a time when factual information is a necessity, we believe that each of us, around the world, deserves access to accurate reporting with integrity at its heart.
Our editorial independence means we set our own agenda and voice our own opinions. Guardian journalism is free from commercial and political bias and not influenced by billionaire owners or shareholders. This means we can give a voice to those less heard, explore where others turn away, and rigorously challenge those in power.
We need your support to keep delivering quality journalism, to maintain our openness and to protect our precious independence. Every reader contribution, big or small, is so valuable.